Lessons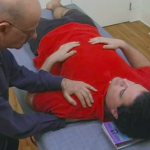 Learn the Alexander Technique Quickly
Taking individual, private Alexander Technique lessons is the fastest, most efficient way to learn the technique. The lessons are uniquely tailored to your personal needs.
During lessons, you will receive hands-on guidance, combined with verbal cues. Part of the lesson occurs on a bodywork table, which students find relaxing yet invigorating. You release tension, which helps relieve back pain and neck pain.
As you study the Alexander Technique, you will learn to apply the principles to your everyday life. In this way, you are practicing the Alexander Technique throughout your day, and you get better at whatever you practice.
The Alexander Technique and posture, back pain, and neck tension.
The Alexander Technique will help you break the unwanted habit of slouching. Poor posture commonly results in neck tension, and back pain.
Through Alexander Technique lessons, you will stop slumping (which compresses your spine), as you sit at the computer and as you go about your life. You learn to do everthing with more ease.
The Alexander Technique is a do it yourself, do it at home technique. You will be able to reduce excess tension on your own, anywhere and anytime.
As you practice the Alexander Technique you will develop new habits. You fix your posture and get to the source of pain issues. The Alexander Technique is simple, and extremely effective.
Locations in NYC
1123 Broadway, between 25th and 26th streets, room 213. (Sundays: 1133 Broadway entrance)
American Center for the Alexander Technique – 39 West 14th Street, between 5th and 6th Aves. Suite #507.
ARE of New York – 241 West 30th Street, between 7th and 8th avenues. Buzzer 102, 2nd floor.
42-16 80th Street. Elmhurst, Queens
Fees
Individual Alexander Technique lessons- $90 (45 minutes)
Package of five lessons-$425 (save $25)
Package of ten lessons-$800 (save $100)
Small Group Lessons (90 minutes) $35
Sliding scale and installments available.
Checks, cash, or Paypal accepted.
How do I schedule a lesson?
Just email or call me and we'll find a mutually convenient time and location.
(917) 709-4648
Mark Josefsberg-Alexander Technique NYC