How To Reduce Neck Pain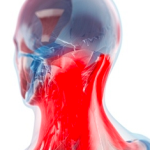 We tense our necks, habitually.
The Alexander Technique teaches how to reduce neck tension; how to free your neck. Reducing neck tension reduces neck pain.
How do you free your neck?  The same way we arable to free our bicep, or any other muscle. We do it all the time.
We're not use to being able to control our neck muscles but, we can tighten them, and release them, and control them.
Reducing Neck Tension
We can learn to let go of the muscles thereby reducing the tension in the back of the neck. It takes information, thought, and practice. Neck freedom becomes habitual. You practice Alexander Technique principles in the course of your everyday life. You can reduce your neck tension anytime you want. You give yourself neck pain relief.
Heads, which can weigh ten or fifteen pounds, can put a lot of strain on our neck, especially if we habitually poke our neck forward. If the neck is poking forward (toward the computer screen for example), the muscles in the back of the neck are over-working all the time. You can reduce neck tension and neck pain by stopping the constant work of the neck muscles. The Alexander Technique will give you a method, and then you do it yourself at home, and everywhere else. For instance…
Alexander Technique Neck Pain Relief
Let your neck muscles free up, and let your head rotate slightly forward, and go up. Slightly, slowly, lower the tip of your nose while the crown of your head moves up.
Let your sit bones release down into the chair, in opposition to your head moving up. Neither slumping nor straining.
Reduce your neck tension.
Free your neck so that your head can rotate forward and up. You are reducing neck tension, to reduce neck pain.
By Mark Josefsberg
Mark Josefsberg-Alexander Technique NYC