What Is The Alexander Technique? (Part 2)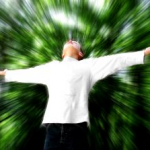 The Alexander Technique is a way to reduce back pain. It's a way to reduce neck pain.
The Alexander Technique is the way to have better posture.
It's psychophysical re-education.  …Reduce stress…reduce anxiety… reduce tension…increase awareness. Help with RSI, TMJ, MS. The Alexander Technique helps you use your body the way it was designed. It helps you perform better…stand taller without rigidity…sit taller without being stiff… slump and compress less…expand.
The Alexander Method helps asthmatics and people with Parkinson's. You can use it while at the computer, or putting on make-up. You can use the Alexander Technique while you're bowling, playing guitar or doing Tai Chi. It's used while stretching or doing yoga, or exercise or dance. The Alexander Techniques can help with digestion, blood pressure, hip pain, sleep, and your mood. It can help with performance anxiety and performing on a musical instrument or performing surgery. It helps with singing, and speaking, and sitting at business meetings. It helps you have full, natural breathing.
The Alexander Techniques calms you down, while pepping you up. It's used while playing sports, or just sitting down and standing up. It's used while seated or standing or walking. You can use the principles of the technique when you lift your hand to use a cell phone, or your Blackberry or to eat strawberries…watching television or talking with friends.  Use the Alexander Technique as you talk to relatives, eat soup or play football; or eat soup while playing football, talking to relatives.
The Alexander Technique applies to Martial Arts or boxing, cutting tomatoes or getting a towel off the shelf.  You can learn to apply the technique to brushing your teeth, or brushing your hair, brushing your dog, or brushing up on your French. You can use it while combing your hair, or somebody else's hair, or combing through your desk. Use the principles of the Alexander Technique as you eat nuts or cut celery or lift a suitcase or do the Mambo. Or the Tango.
You'll be glad you know the Alexander Technique as you take a drive, sit on a plane, ride your bicycle or sit on the subway. Breathe, swim and dance with more ease. You'll use the right amount of effort, for the right amount of time in the right place. It can become a way of life, or just use it to feel better or speak easier, or get out of pain or present yourself with more confidence. It will show you a way to hold your head high without being arrogant, but with lots of ease.
It can help as you open a jar, play tennis or scratch your nose. You'll be able to let go of jaw tension. You can put on your earrings with only the muscular effort required. The Alexander Method helps you be more easeful at a lecture, or at the movies, or the barber shop or the dentist's office. It can help you as you work, play or sleep.
Comments always welcome.
Mark Josefsberg-Alexander Technique NYC
(917) 709-4648