The Alexander Technique And The Flute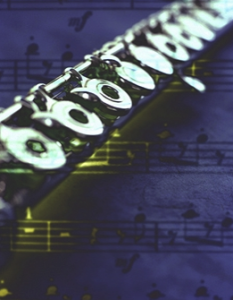 Today I taught an Alexander Technique lesson to a flautist, or a flutist, or a flute player. This musician was experiencing neck pain that he believed was associated with his playing. Every musical instrument has it's unique challenges and the flute is no exception. The Alexander Technique helps deal with the musician's challenges, while improving their sound quality, and extending their musical careers.
As my musician friend bent down to pick up the flute, still in it's case, we noticed how he lunged forward with his neck. In the Alexander Technique we use the term "end-gaining" to describe how we may habitually get ahead of ourselves in common, everyday actions such as picking something up off the floor. We project ourselves forward, unaware of what we are doing in the present. This projecting forward often starts with our neck, which leads  to unnecessary shortening and tensing. We also poke our neck towards television screens, cell phones while texting, and computer screens (like now?)
We tried bending down again, this time pausing, and putting more thought into the action. We forget to remember that awareness is the first step in changing habits. Playing the flute, or any other instrument, starts well before you produce a sound. Before lowering himself to pick up the flute, he freed his neck of excess tension, which helped free his entire muscular system of excess tension. This freedom is vital for all musicians.
In the Alexander Technique, we think about how we initiate movement-any movement. How do you start to walk, how do you begin to put your fingers on a computer keyboard, or a piano keyboard, or a guitar fretboard. Do you start these actions by raising your shoulders? Try moving your fingertips first instead.
By taking a few moments before even reaching for the flute, we are thinking about initiating the act of playing. It's never too early, or too late to release tension. Opening your instruments' case, thoughtfully taking it out of it's case, or picking up a pair of sticks can be used as a warm-up, or a pre warm-up. It's initiating the act of playing music, by releasing unnecessary tension.
That's how we want to begin playing-with as much ease and freedom as possible which can lead to better practicing, better rehearsals, and better performances.
Mark Josefsberg-Alexander Technique NYC
(917) 709-4648