Is The Alexander Technique Covered By Insurance?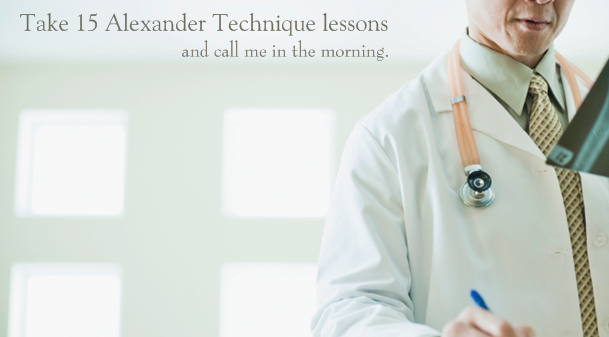 Do Alexander Technique Teachers Accept Insurance?
This question comes up quite frequently with people inquiring about lessons in the Alexander Technique. And why not.One way or the other we pay quite a lot for health insurance. Most health insurance companies here in New York State will not pay for Alexander Technique lessons.
If you have back pain or neck pain, health insurance companies will cover doctors who might prescribe painkillers or muscle relaxers, and then refer you to physical therapists.If that doesn't work the next stop is surgery. While physical therapists can be great for some problems, they are not always the answer.
New students quite often relate to me the following sequence: I hurt my neck hunching in front of the computer all day, went for physical therapy, and they made it worse. Why did they go to physical therapy? For two reasons:
1. Their doctor told them to.
2. It's covered by health insurance, and the Alexander Technique is not covered by insurance.
When I ask "did it help?" they may say: "No. That's why I'm here"."If the physical therapy and the exercises were hurting you, why go three times per week? " "Because all I had to pay was my copay."
If this weren't so tragic, it would be funny. It kind of reminds me of: "The food in this hotel is horrible" "I know. And the portions are so small!"
Yet, I totally understand. Why should someone pay health insurance, and then pay more for Alexander Technique lessons which are not covered by insurance? Here's why. The Alexander Technique can really work. The Alexander Technique, although it doesn't accept health insurance, has a unique place in the treatment of musculoskeletal issues. (And yes, I know, I used the word treatment.) In fact very often, even though it isn't covered by insurance, the Alexander Technique is the way to go.
If it's the way you sit at the computer, the way you stand, the way you walk that has caused and is causing the problem, the real permanent solution is to change the way you do things. 
What does not make sense, to me, is that Alexander Technique teachers cannot accept insurance, at least in New York State. The basic reason for this is that most of my fellow Alexander Technique teachers do not want to accept insurance. I, as an Alexander Technique teacher, would love to be able to accept insurance. Imagine how many more people Alexander Teachers could help. Imagine how many back and neck operations could be avoided. But 'we' Alexander Technique teachers do not want to accept insurance. It's tragic, and I'm really sorry.
I'd love to hear from you.
What are your views on the Alexander Technique accepting insurance?
Are you an Alexander Technique student or teacher with ideas about insurance?
Please join in and leave your comments.
Mark Josefsberg-Alexander Technique NYC
(917) 709-4648